Products
Saros in-ground light TRAIL made of monolithic polymer is designed for decorative and navigational landscape lighting.
Protection class: IP68
Impact resistance: IK10
TRAIL lights constantly operate under any weather conditions: snow, water, ice, etc. The monolithic structure protects the electronic parts from environmental influence completely. TRAILS are also resistant to UV radiation, chemicals, and road salt.
Casting technology allows us to offer a variety of shapes and sizes to match different types of paving.  Special mounting sleeves can be manufactured individually for each project if needed.
TRAIL lights can be installed on stairs, ramps, or vertical surfaces as well as on pedestrian and bicycle roads. They are also durable enough to be used under heavy-vehicle (up to 5t/cm2) traffic, such as parking lots.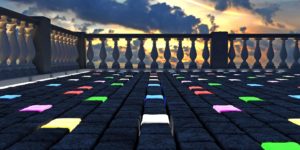 Why Saros TRAILs?
Variety of  body textures and colors
Lifespan: 50 000-100 000 hours
Usable at -35°C to +65°C
Colored glow with white body
Controllable lighting of single or multiple colors: red, yellow, blue, etc.
5-year warranty